In a bid to steer clear from constantly regretting the situation, the government instead views the COVID-19 pandemic as a momentum to prepare the sector to rise by conducting extensive developments and bringing about improvements.

As one of the super priority tourism destinations (DPSP), the development of supporting facilities for the Lake Toba area is also being pursued since in comparison with other super priority tourism destinations, such as Borobudur, Mandalika, Labuan Bajo, and Likupang, Lake Toba is still in need of supporting infrastructure development.

Expediting development of the Lake Toba area is also an unwavering commitment of Coordinating Minister for Maritime Affairs and Investment Luhut Binsar Pandjaitan, who is the son of the Toba Samosir area.

Pandjaitan continues to monitor and support the development of Lake Toba. Every few months, the minister diligently visits Lake Toba to witness up close the progress in development of the lake area formed by the eruption of the supervolcano tens of thousands of years ago.

During his last visit, continued progress was apparent in several development projects, such as the construction of the Porsea Pier and the Balige 3 Vocational High School (SMKN), which is a tourism vocational school to support and develop Lake Toba.

The other projects comprise the Balige Pier and Lintong Ni Huta Tourism Village and arrangement of the Bebas Parapat beach area. Positive progress was also apparent in the Creative Hub candidate in Dolok Sipiak as well as the road rehabilitation work at Pesanggrahan Soekarno. The construction at Ajibata Port and Ambarita Port is also progressing, and expected to become operational by September.

Meanwhile, the project in Tano Ponggol will continue to be accelerated, under which an elevated bridge will be built to connect Samosir Island with Sumatra Island.

The Tebing Tinggi-Serbelawan toll road, North Sumatra, which connects Kualanamu to Parapat, one of the accesses to Lake Toba, will be able to cut travel time to one and to two-and-a-half hours.

According to the plan, the toll road, which will be opened at the end of December 2021, will connect to Pematang Siantar. Meanwhile, the plan to build the Parapat and Sibolga lines is expected to be completed in 2024.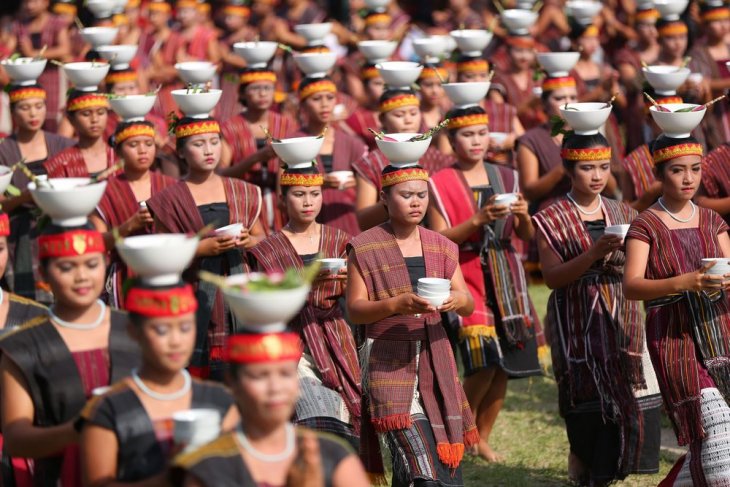 Invite Investment

The government is offering potential investors an opportunity to develop the Lake Toba area, among others.

The Investment Coordinating Board (BKPM) noted that several investments that investors could undertake, include four- and five-star hotels on the hillside of Lake Toba, glam camps, MICE facilities (Meeting, Incentive, Convention, and Exhibition), commercial areas, and indoor and outdoor entertainment.

BKPM Deputy for Investment Planning Nurul Ichwan stated that the government is offering investment in a 386.72-hectare plot of land in the Lake Toba area held by the Lake Toba Authority Implementing Body (BPODT).

"The land is owned by BPODT, so it can be used for your investment needs. You can work with BPODT or you can buy or rent it from BPODT, and you can run a business as you wish in Toba," he stated.

Furthermore, Coordinating Minister Pandjaitan has also approached several potential countries, including China.

According to the minister, China had planned to invest up to US$10 billion in Lake Toba.

On one occasion, Pandjaitan had invited Chinese Foreign Minister Wang Yi to experience the beautiful panorama of Lake Toba while hiking and discussing investment cooperation, including in tourism projects.

"Chinese investors, for instance, have invested in several projects and will still invest in the Lake Toba area," Pandjaitan noted.

Deputy Minister of Culture and Tourism of China Zhang Xu Pin agreed to continue to conduct international collaboration to facilitate recovery of the economy battered by the COVID-19 pandemic, including supporting the tourism sector.

"Promoting cooperation in the economic and bilateral trade fields of the two countries, especially in supporting tourism to boost economic growth and people's welfare," Zhang Xu stated.

Toilet restoration

In a bid to support the Lake Toba tourism area, the government will renovate toilet facilities. As a country with vast tourism potential, the cleanliness of public toilet facilities is one aspect that affects the reputation of tourism in the country.

"Toilet is important, because in a tourist spot, if there is no toilet, there is no water. It is of no use," Pandjaitan stated.

Hence, the government is focused on improvements in the quality of public toilets, especially at tourist sites.

The government has also collaborated with Mister Loo, a Swiss startup that offers an innovative public toilet concept.

A total of 25 new toilets have been built at several locations in the tourist spot of Lake Toba. The 25 toilets were built from the CSR funds of several companies and will be jointly managed with Mister Loo.

In accordance with directions to improve toilet facilities at tourist spots, Minister of Tourism and Creative Economy Sandiaga Uno plans to establish a national toilet task force under the efforts to boost national tourism.

"We must improve the toilet management system in tourist areas to make Indonesia the main tourism destination in Asia," Uno stated.

The Indonesian Toilet Task Force (STI), a community organization, also supports the Minister of Tourism and Creative Economy's plan to improve the condition of toilets at tourist areas.

Apart from maintaining high levels of cleanliness at several tourist areas, another area that necessitates attention is several toilets that do not have special facilities for people with disabilities, such as those using wheelchairs.

"We have conducted study on the field and found that five tourist areas in Indonesia can become pilot projects promoting the Love for Clean Toilet Community Movement," Head of STI Anthoney stated.

As one of the five super priority tourism destinations, the government continues to pursue the development and arrangement of the Lake Toba area, right from small aspects, such as building toilets to investment from several potential countries.

Hopes are pinned on bringing about improvements in this destination to boost tourist visits when the COVID-19 pandemic can be brought under control.
https://en.antaranews.com/news/173258/pursuing-development-of-super-priority-destination-lake-toba